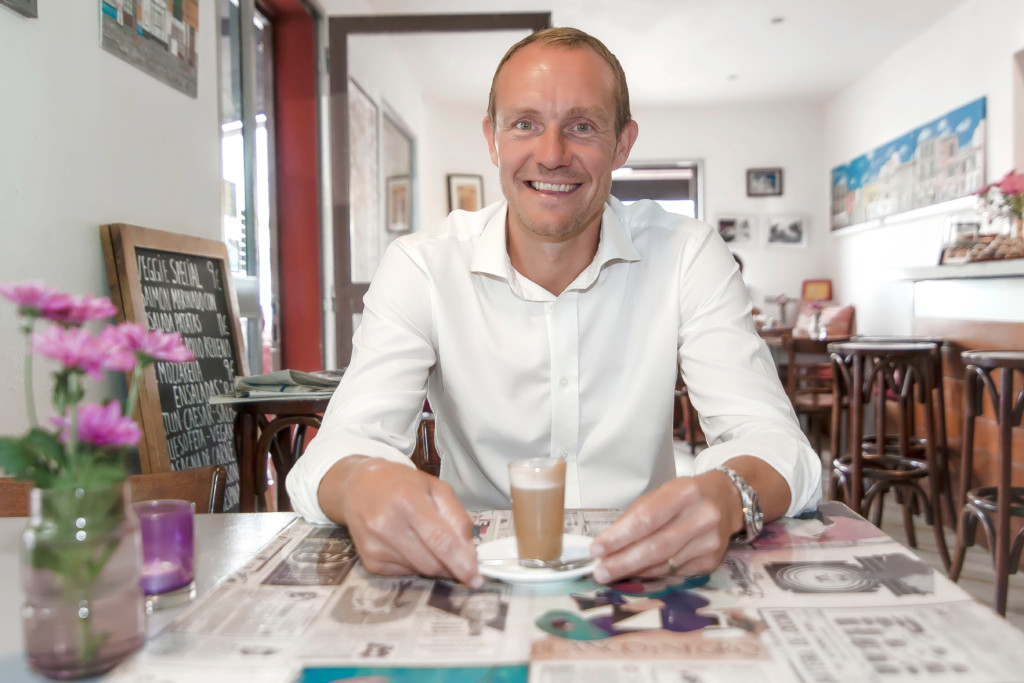 Thinking about moving to Mallorca? In this issue, our sales agent Magnus Nystedt shares with us his own experiences. Magnus moved from Sweden to Mallorca with his wife Maria and their two sons. He was attracted by the quality of life here and the ideal climate. Prior to Mallorca, Magnus worked as an office manager at the SEB office in the Old Town of Stockholm. Now he is a senior sales agent at Mallorcafastigheter working mainly with luxury properties in Palma and the southwest areas of Mallorca.
Q: Where, when and why did you move to Mallorca?
A: I moved with my family to Bonanova in 2013. We wanted to live in a country with warmer climate again after living in Asia earlier. We started looking for work opportunities, schools, good healthcare and climate and the best option was Mallorca, a choice we have never regretted.
Q: What do you like most about the life here?
A: The climate is fantastic, especially in autumn and spring. I get the opportunity to spend more time with my family than before and practice outdoor sports such as golf, paddle and running all year round.
Q: What were the major challenges during the move?
A: The Spanish bureaucracy, many things take more time than you expect.
Q: What is the biggest cultural difference you have experienced between your new country and life back home?
A: The social life is different here. You spend more time with friends and in a different way from Sweden, it's less pretentious. It's more important to see each other and hang out, than to make a perfect dinner. You often meet at restaurants or do some kind of activity with your friends, you don't spend that much time at home. The children become trilingual because they go to an international school, which is a big plus. You buy food in a different way here too; you buy the meat at the butcher, the vegetables in the market and the bread at the bakery, not at home where you usually shop everything you need in one single store. The shopping here takes a little more time, but it is more enjoyable.
Q: What advice would you give to anyone following in your footsteps?
A: You need to have patience in your everyday life, an economic buffer and try to learn Spanish as soon as possible.
Q: Favorite restaurant on the island?
A: With my wife I like to go to Canela, on a crossroad to Jaime III. If we eat Saturday lunch with the children in town, we like to go to Bi Bap at Plaça del Mercat. Cas Xorc in Sóller is also good with fantastic food and beautiful views.
Q: Favorite beach?
A: Playa del Muro
Q: What is the best thing about living in Mallorca´s countryside?
A: Definitely the proximity to nature. You can clearly see all four season, there is always blooming. We have our own large garden with chickens and we can grow our own vegetables. If you want to bike or hike in the mountains, it is very close.
Q: The best hike around the area is…?
A: A good relatively easy walk that suits even with children, is the hike up to Castel Alaró from the restaurant Es Verger where you can park the car. I recommend to have lunch there after the walk, their lamb is delicious.
Q: Which are your two favourite villages here?
A: Esporles and Sóller
Q: The local vineyard  you like best is…?
A: Difficult to say, there are so many good vineyards on the island. One place I do recommend is to buy your meat on Angus Mallorca, they are also opening a vineyard now. It is located just five minutes from where I live so I go there everyday on the way to my children's school.