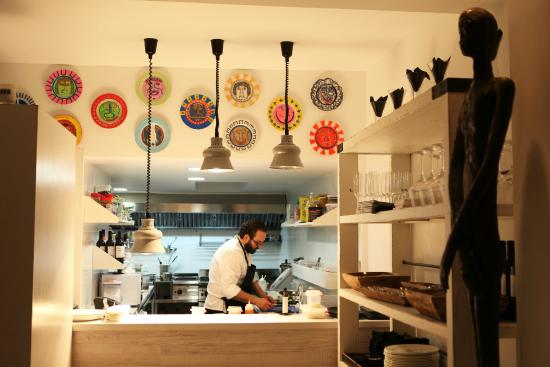 Stylish restaurant with quality food in Palma
The Nuru restaurant is situated in the beating heart of Palma de Mallorca – Santa Catalina. It is a vibrant and bright restaurant with welcoming interior and interesting art by the famous Spanish actor Jordi Molla.
The name Nuru comes from the African language Swahili for Light, Vitality and New Beginnings. which sums up this restaurant perfectly.
The chef Chus, who has experience from El Bulli and Nobu, use only fresh and seasonal ingredients to create delicious, subtle dishes like Sea Bream Thai Sashimi, Suckling Iberian Pork Beijing Style and Rack of Lamb on a sweet potato base.
Nuru's has an extensive wine list with carefully selected wines to accompany the cuisine, ranging from the finest vintages produced on the island to wines from the most respected vineyards in the world.
The kitchen has recently been renovated and is completely open, so you can see the team of chefs at work as they prepare your meal. Taking your dinner on the terrace is highly recommended, where you can enjoy the warm evenings and beautiful views.
More information on their website.