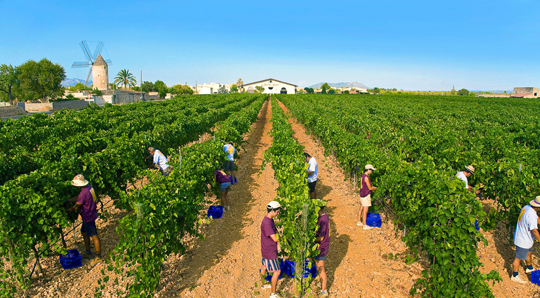 Mallorca has around 70 wineries (bodegas) and in recent years many of the grape growers have opened their doors to visitors for tours and tastings. In our culture, wine is present in religion, celebrations and at mealtimes. Wine has sculpted our landscape and our architecture.
In the center of the island, at the foot of the Tramuntana Mountains, you will find some of the best wineries. Winding roads and tracks will bring you up close to the vines, to the land, to unique sensations, houses, wells, caves and hamlets. An excellent wine route is the Binissalem DO region encompassing the island's central towns of Santa Maria del Camí, Consell, Binissalem, Sencelles and Santa Eugenia.
These are the fourteen wineries participating in the wine route.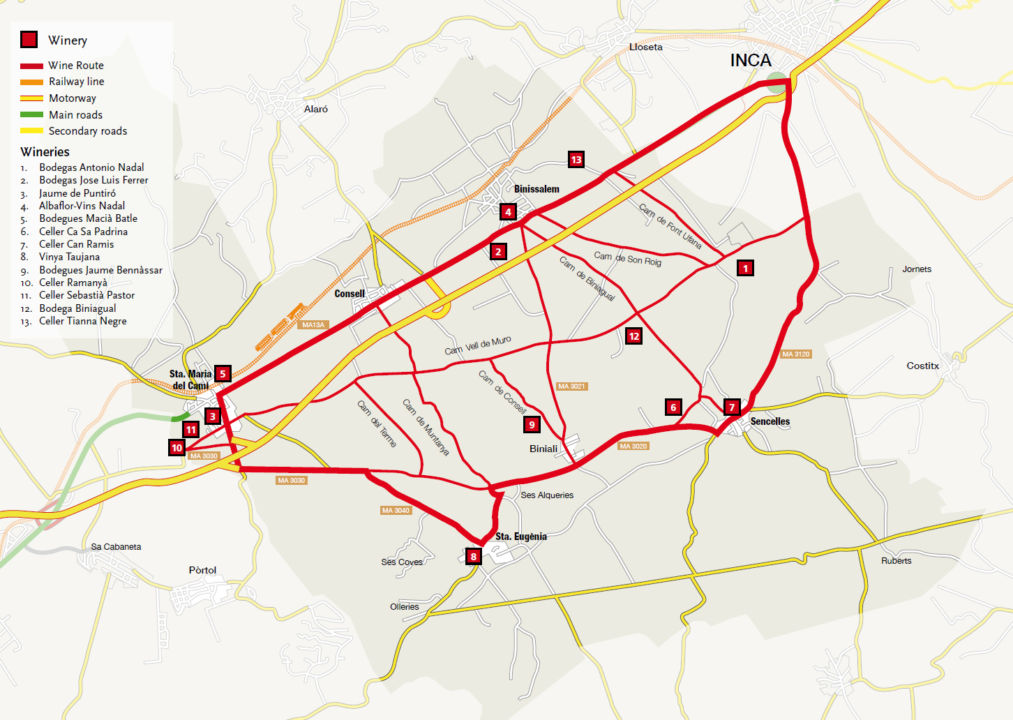 Bodegas Antonio Nadal
Tel: (34) 630 914 511
info@bodegasantonionadal.es
www.bodegasantonionadal.es
Antonio Nadal Bodegas y Vineros is a family winery founded by Antonio Nadal Ros. Since 1989 he uses modern winemaking techniques combined with traditional methods which allows wines with a special personality.

Bodegas Blanca Terra
Tel: (34) 971 267 163
info@blancaterra.com
www.blancaterra.com/en
Blanca Terra vineyard & winery is located in Montuïri, the region of Mallorca known to be fertile and  with enough water, thereby ensuring a favorable crop and quality grape. This allowed Blanca Terra to successfully use grape varieties rarely used in Mallorca. With the same warmth and passion that Mallorca welcomes its travelers, Blanca Terra welcomes you. Visit the bodega, museum and finish off with a wine tasting.

Bodegas Jose Luis Ferrer
Tel: +34 971 51 10 50
info@vinosferrer.com
www.vinosferrer.com
Bodegas José Luis Ferrer is founded by José Luis Ferrer Ramonell who pioneered the wine industry in Mallorca with new techniques of cultivation and starting to export Majorcan wines to Europe and USA.

Jaume de Puntiró
Tel: 00 34 971 620 023
www.vinsjaumedepuntiro.com
Jaume de Puntiró´s ecological wine is all handmade and uses vintage winemaking techniques.
Every production is respectful to the environment as well as the consumer.

Vins Nadal
Tel: +34 971 511 058
albaflor@vinsnadal.com
www.vinsnadal.com
Vins Nadal was founded by Miguel Nadal Fiol and is a one the first and most important wineries in Binissalem. Every summer they organize jazz concerts in the bodega where you can enjoy their wine along with the music.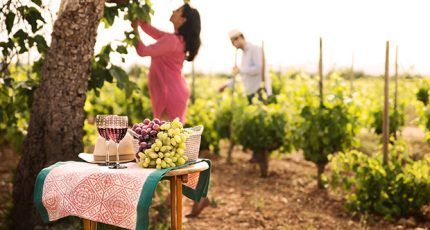 Bodega Biniagual
Tel: +34 689 183 954
info@bodegabiniagual.com
www.bodegabiniagual.com
Bodega Biniagual is a family run business of wine production in the village Biniagual. The wines 'Verán' and 'Gran Verán' are well known abroad and two of the favorite wines amongst the mallorquins.

Tianna Negre
Tel: +34 971 886 826
info@tiannanegre.com
www.tiannanegre.com
Tianna Negre was built up in 2004 after many years of dreaming. Their work is based on their love for winemaking combined with their love for art. Their wine bottles has the most beautiful artwork on their labels.

Macia Batle
Tel: +34 971 140 014
info@maciabatle.com
www.maciabatle.com
Bodega Macia Batle is a winery that contains all the latest facilities, machinery and advanced technology. Their wine has won several Spanish and international rewards.

Celler Sebastia Pastor
Tel: 771 620 358
cellersebastiapastor@gmail.com
http://www.sebastiapastor.com/celler.php
Celler Sebastia Pastor was founded in 1937 by Sebastia Pastor Mayol. Their techniques are constantly upgrading and they now combine the traditional methods with new ones. 2017 they will present their first sparkling wine, that is something that is worth a toast!

Celler Ramanya
Tel: 680 417 929
info@bodegaramanya.com
www.bodegaramanya.com
Celler Ramanya was founded in 2003. After several years of experimenting, a group of young people decided to go ahead with the project and fulfil their dream. Their wines are intense and aromatic.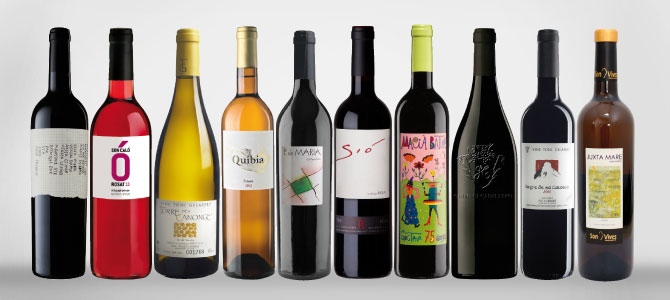 Vinya Taujana
Tel: 971 144 494
www.vinyataujana.es
Vinya Taujana winery was created by the Crespi family in 2001. The winery has the most modern technology combined with the production of native grapes. Their wine Torrent Fals has won several international awards.

Celler Can Ramis
Tel: 971 872 418
perecanramis@hotmail.com
http://www.binissalemdo.com/bodegues/celler-can-ramis?lang=en

Celler Can Ramis was founded in 1870 by Pedro Molina Amengual and his wife. They produce wines from Manto Negro, Callet and Sira grapes.

Celler Ca Sa Padrina
Tel: 660 211 939
http://vinscasapadrina.com/noticias/

Ca sa Padrina was founded in 1999 and produces traditional Majorcan wines. Their wine has been recommended by the sommelier of the restaurant "El Bulli" and was sold out almost immediately.

Jaume Bennassar Can
Tel: 696 191 714
www.binissalemdo.com/jaumebennassar
Jaume Bennassar Can was founded in 1996. The wine stands out as it is served on the owners restaurant "Orient", famous for the typical mallorquin dish suckling pig that combines perfectly with the wine.

Verdura Viticultors
Tel: 695 817 038
tomeuverdura@gmail.com
www.binissalemdo.com/canverduraviticultors
The winery Verdura Viticultors opened in Binissalem in 2012. Their wines are described as fresh and rebel, pop wines with a Mediterranean character.