Houses, villas and fincas for sale in Mallorca
Mallorca's housing market offers a great variety to choose from: ranging from townhouses in Palma, Portixol or Soller to luxury villas in Son Vida or Port de Andratx. Something that is very special for Mallorca is the characteristic stone houses and mansions known as Fincas, found in areas such as Es Plà, and in villages such as Santa Maria, Artà, Bunyola and Pollensa. Mallorcaresidencia has an excellent selection of houses, villas and fincas on this wonderful Mediterranean island.
If you are looking for a specific house, villa or finca in Mallorca, please use the search function in the top right of the menu.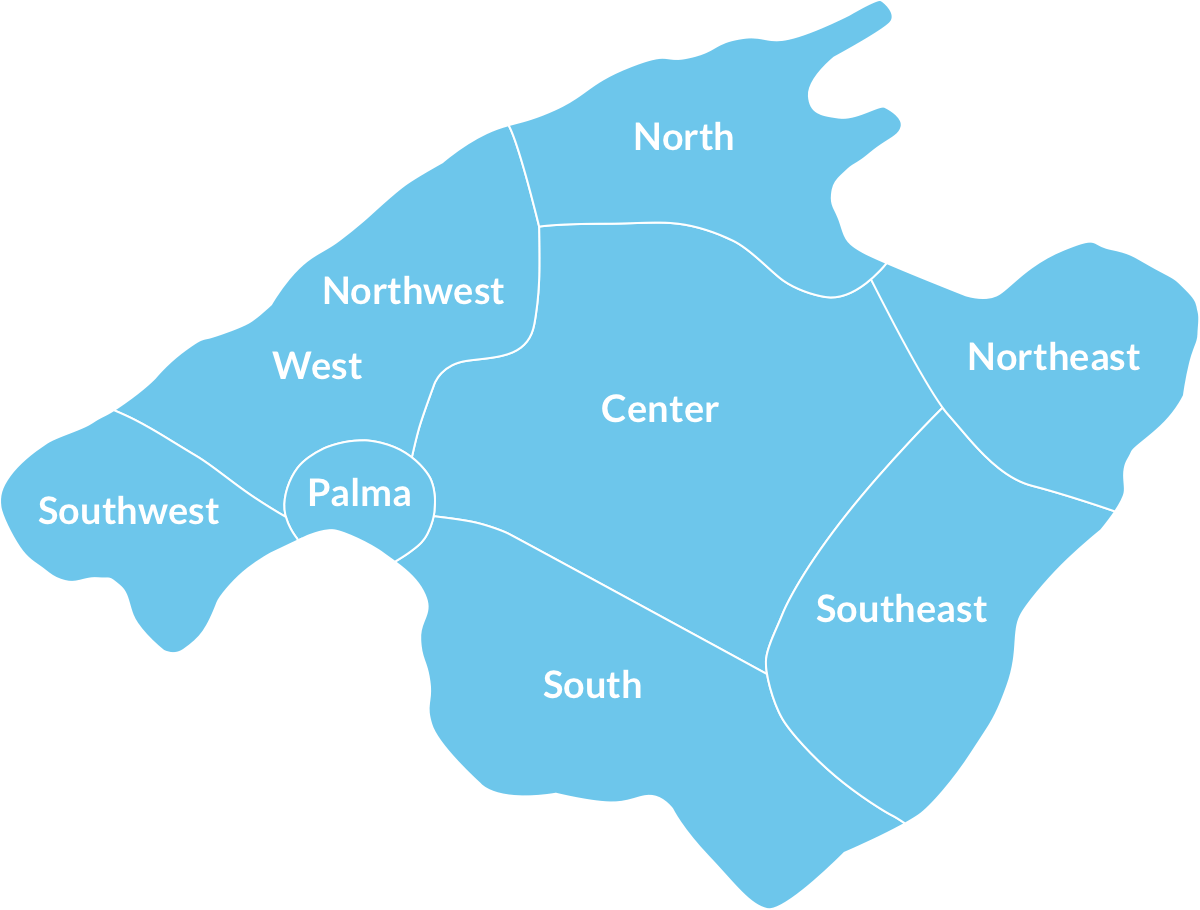 Click on the map to view related properties for sale in Mallorca
Our recommendation for buying a property in Mallorca
It is easy to fall in love with a house, despite that we recommend you not to rush, to trust your gut feeling and to take some facts into consideration! We will guide you in the jungle of questions and assist you in finding the right home that best fits your needs. A house with one, two or three floors, a garage, basement and / or attic? And of course, the location of the property, it's as important as the house itself to make you feel comfortable.
Fill in your details and we will help you find your dream home
Buy a House or Villa in Mallorca - this is the process!
The best way to increase your chances to easily and quickly find your dream house in Mallorca is to have knowledge about and be familiar with the buying process in Mallorca.
Contact a real estate agent that you feel comfortable with, preferably someone who speaks a language that you understand.
It's important that you choose a real estate agent that you feel comfortable with and that you trust. Someone with experience, local knowledge about Mallorca and contacts. A real estate agent that can guide and advice you and of course that not only speaks your language but also Spanish.
"- We at Mallorcaresidencia have documented long experience of successful intermediation of houses all over Mallorca. Our ambition is to always provide personalized service and strive to outperform your already high expectations. We help you throughout the entire buying process ensuring that you feel content and comfortable when buying your house in Mallorca."
Fill in your details and we will help you find your dream home
Please fill in our request form by clicking on the link. In the form, you can also choose whether you want to be informed about our latest properties via email or newsletters.
Questionnaire