Easter is an important tradition and a wonderful cultural experience throughout Mallorca! Semana Santa offers lots to do & see. Families in Mallorca come together to make the traditional Easter pastries: rubiols, empanadas and crespells. Processions with hoods and robes march through Palma every evening. In addition to the religious festivities, La Fira del Ram is an annual fun fair that takes place in Palma during Easter. It's a great opportunity to let loose and have some fun with family and friends.
The island comes alive with festivities during Holy Week. Traditional rituals, and festive atmosphere make it an exciting time to visit. It's a good opportunity to immerse oneself in the local culture and traditions.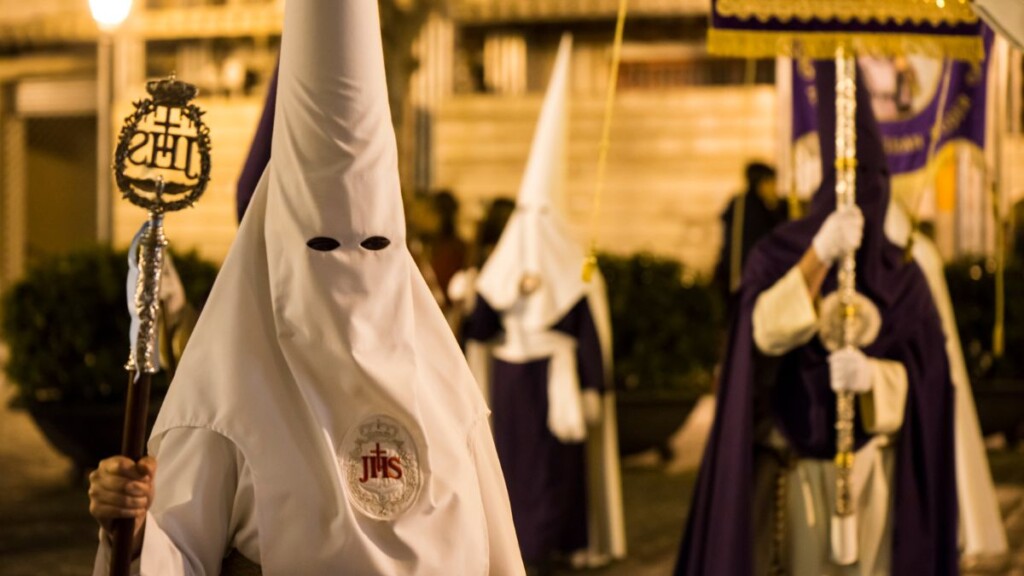 Easter begins on Palm Sunday in Mallorca
The Holy Week is filled with traditional rituals and religious processions and events that take place during the week leading up to Easter Sunday, to mark the Passion of Christ. 
Palm Sunday is one of the most important days in the Christian calendar after Christmas and Easter. For many Christian churches Palm Sunday, often referred to as "Passion Sunday," marks the beginning of the Holy Week.

The Bible reveals that when Jesus entered Jerusalem, the crowds greeted him by waving palm branches and covering his path with palm branches. In Palma, Palm Sunday is traditionally celebrated with the blessing of palm branches and a procession in many Christian churches. The Passion Mass in the Cathedral of Palma is followed by procession of priests and believers through the streets and was preceded by the Bishop of Palma blessing with holy water the palm branches and olive trees brought by numerous spectators. On this day Christians celebrate the triumphal entry of Jesus Christ into Jerusalem, the week before his death and resurrection. Therefore it is customary to bring the blessed palm branches home to adorn the front doors as an element of protection for the family.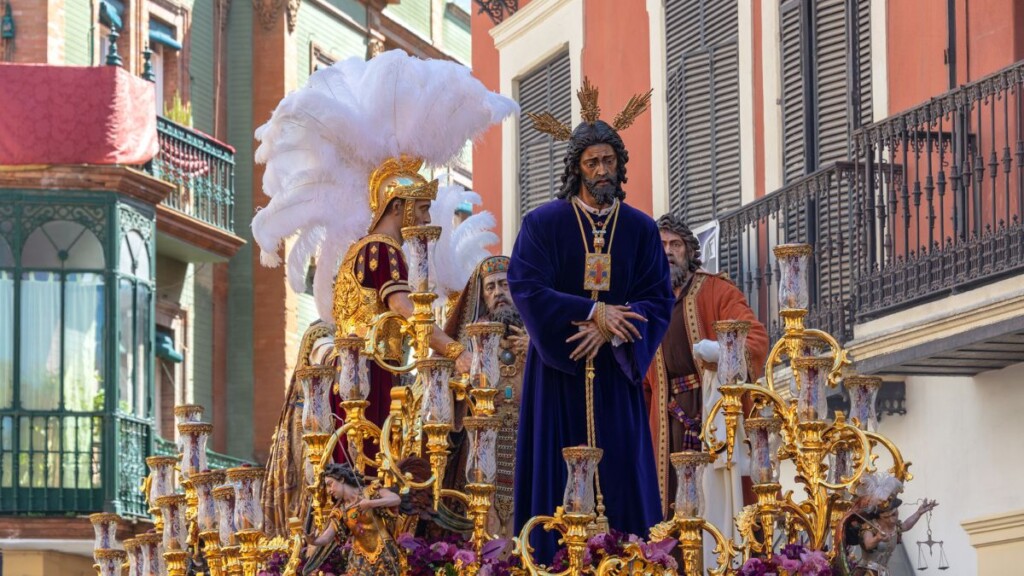 Easter processions and the hooded men
Semana Santa is the Spanish name for Easter and it reaches all the way back to the 16th century when the church decided to present the story of Christ's suffering in a way that people could understand. It was decided that the best way to do this would be a series of processions through the streets depicting scenes from the story of Jesus' birth and death. 
It is an experience to follow the glorious Easter processions here in Mallorca whose content is varied depending on the day. The processions in Palma involve members of religious brotherhoods or cofradías, who wear hoods and robes as a symbol of penitence and anonymity. The processions are usually solemn and reflective, as they mark the Passion of Christ. One of the more vivid Easter processions is the Procesión del Silencio, (Silent Procession), held in complete silence, with the quietness only broken by a deep and throbbing drumbeat, usually performed on Tuesday before Easter.
Jueves Santo (Holy Thursday) is another significant day in the Holy Week calendar, thousands line the streets to watch the annual Processión de la Sang. This is the largest of the Easter processions, with hundreds of hooded penitents and various brotherhoods or 'cofradias', each with their own distinctive penitential robes and conical hoods. All participating and carrying the crucified Christ through the streets to remind the believers of the meaning of Christianity. These brotherhoods make their way slowly and painfully around the city streets carrying the heavy religious statues on  platforms while solemn music accompanies them on their slow progress. The procession can take hours to complete, often continuing well into the night.
Angel Sunday: The Sunday after Easter is when, traditionally, bread was distributed among the poor. Today food is still involved, but families and friends gather together to share a meal outdoors. These events are an important part of the cultural and religious heritage of Palma de Mallorca and are a significant experience for locals and visitors alike. The island comes alive with festivities during Easter week. It's a good opportunity to immerse oneself in the local culture and traditions.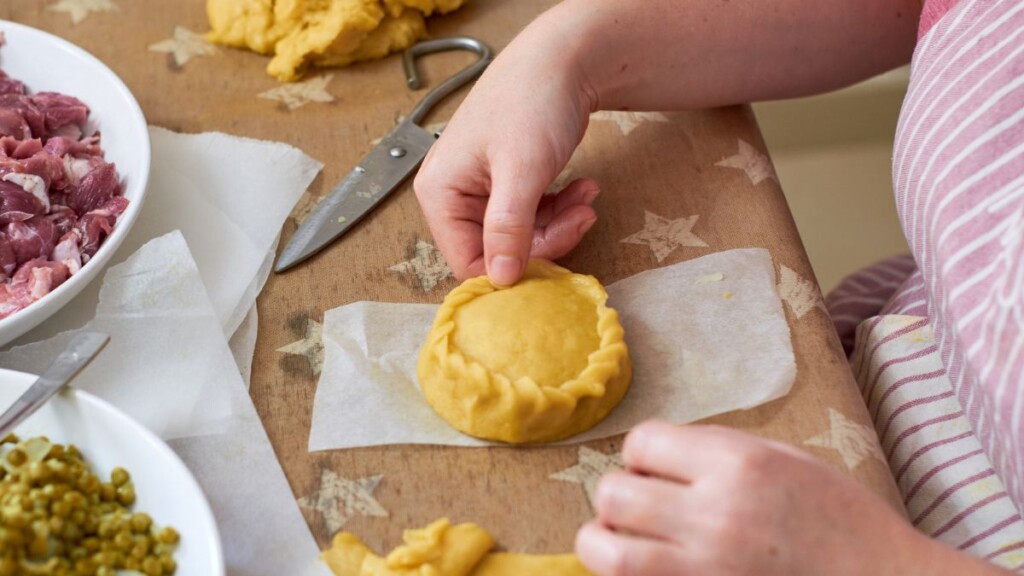 The food is the center of Easter in Mallorca
Regions in Spain celebrate Easter by preparing a variety of dishes that are linked to the customs of the Christian calendar.  Easter in Mallorca means being able to enjoy some traditional foods all over the island! It is typical for Mallorquin families to get together over Easter and cook together. There are a number of sweet and savory dishes that play an important role, and throughout the Easter holiday there will be plenty of Panades, Cocarrois, Crespells and Robiols. Despite being made from the same basic pastry, they differ greatly in taste. 
Panades: are small round pasties pies which are traditionally filled with meat, cuttlefish, fish, chicken and peas. The Easter Panades are stuffed with lamb meat, onion and peas.
Cocarrois: are shaped like a Cornish pasty, but filled with Swiss chard, sweet onions, garlic and raisins.
Crespells: are sweet biscuits in different shapes made especially for Easter. They are best prepared with Mallorquin ingredients, such as olive oil, pork lard and Sóller oranges.
Robiols: are half-moon shaped sweet pastries. They are filled with either an apricot jam, chocolate, cream or a sugary quince filling known as 'cabell d'àngel' (literally translates to 'angel hair').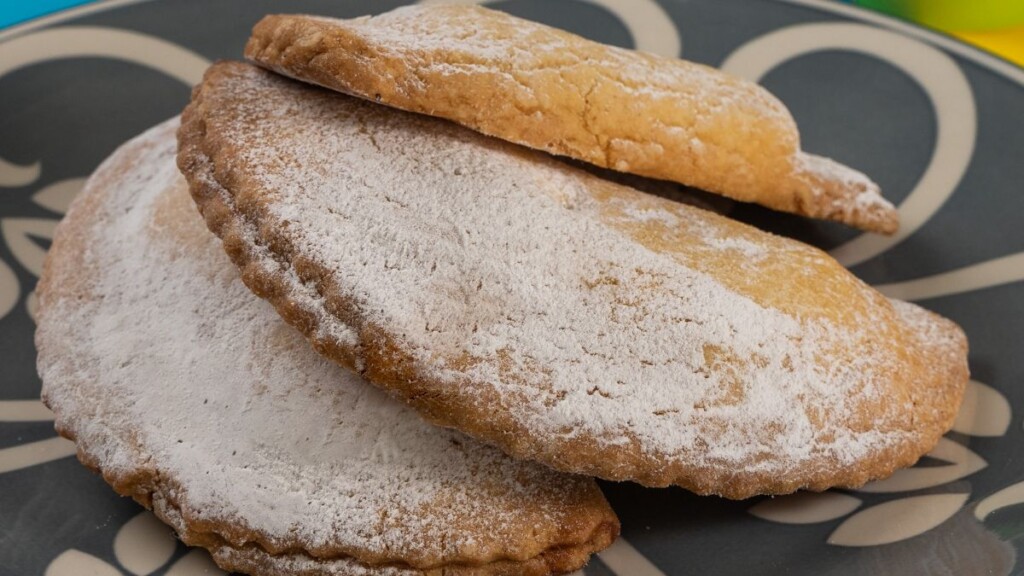 Mallorca doesn't differ from the rest of the world when it comes to consuming massive amounts of chocolate during Easter because another big tradition are the figurines and sculptures made of chocolate called the 'mones de pasqua'. They can come in the shape of a rabbit, an egg, a cartoon character, etc. Many bakeries compete to display the most spectacular chocolate sculptures in their windows. They could be a building, a popular character or a representation of anything!
One of the other seasonal Easter dishes is a spin on the typically Mallorquin 'frit' or frito Mallorquin, a dish made with offal of pork, potatoes, peppers and onions. At Easter it is made with lamb, frito de cordero. It is combined with a number of wonderful herbs, the main one being dill, which reputedly is a herb native from Mallorca. Traditional feasts of roasted lamb are popular events on Easter Sunday and  'food fairs' are commonly held. Here residents get together to dance, socialize and enjoy the food they have prepared in their homes. For many locals, Easter wouldn't be the same without these flavors. So If you are in Mallorca this Easter make sure to treat yourself to a culinary tour experiencing Mallorca through its Easter cuisine.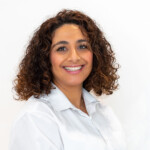 Massar Midgley Mahdi
Team Assistant @ Mallorcaresidencia