In Mallorca there is a long tradition in producing ceramics. There are two villages on the island, Portol and Marratxi, which stand out in particular in this craft. Portol is the core of most of the island's ceramic workshops where unique ceramic pieces are still made by hand. The clay comes from the quarries in the municipality of Marratxi, which proudly proclaims themselves "the land of clay". The tradition has existed since the 17th century and there are currently 9 ceramic manufacturers in Portol and 2 in the neighboring village of Sa Cabaneta. In Sa Cabaneta, the El Museo del Fang (clay museum) is located in an old restored windmill and there is also a municipal ceramics school.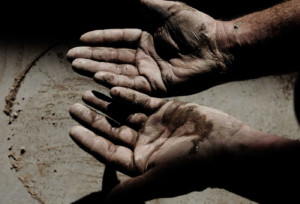 If you are interested in the craft itself, you can follow the so-called Ruta del Fang (Clay Route) which takes you from the museum in Sa Cabaneta via 15 ceramics workshops and other points of interest to end up in Portol. In addition to the usual ceramic products such as bowls and plates, you can also buy siurells, the traditional Mallorcan whistle in the form of a man riding a horse. These figures are usually painted in white with red and green stripes, a typical souvenir from Mallorca.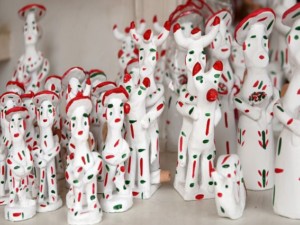 Ruta del Fang
Sa Cabaneta: Museu del Fang, Gerreria Can Bernardí Nou, Siurelleria Ca Madò Bet, Escola Municipal de Ceràmica.
Portal: Son Ros, Sa Roca Llisa, Sa Roca Llisa 26, Can Vent, Cas Canonge, Antiga Olleria de Can Palou, Can Bernardí, Es Porxet, Gerreria Pere Coll, Olleria y gerreria Sa Penya, Teulera Can Vich, Sa Teulera.
You can visit all of these manufacturers but some of our favourites are these:
Sa Roca Llisa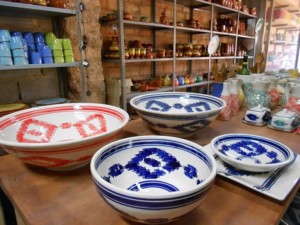 Sa Roca Llisa is a family business that has been in the family for four generations, not only the name remains but also the values ​​and love for what they do. They manufacture both kitchenware and decoration and they also accept orders of custom made products.
Carrer Sa Roca Llisa 24, Portol
Terra Cuita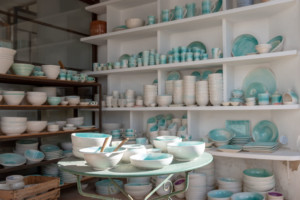 Terra Cuita has its production in Portol but also has a store in Palma, on Calle Concepción 5 and in Santanyi on Calle Portell 3 & 15. This is a family business as well and it has been inherited for five generations. We recommend visiting their factory in Portol (where you can also buy directly from the manufacturer). They are very friendly and are more than happy to tell you more about the production process.
Siurells Can Bernardi Nou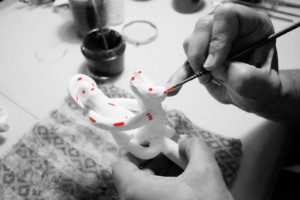 Can Bernardi Nou manufactures, since several generations, mainly siurells in different sizes and shapes. The traditional Majorcan whistle in form of clay figure.
C/ Jaume I, 6, 07141 Sa Cabaneta