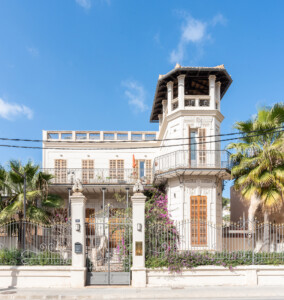 Even though El Terreno is an established area there are a lot of improvements and development with new projects. It's being modernized and therefore increasingly more and more sought-after and popular.
Set by the Bay of Palma, El Terreno has an excellent location between Paseo Maritimo and the Bellver Castle Park.  It has an excellent location, just  by ​​Bellver forest and a short distance from Santa Catalina, Palma city center and Paseo Maritimo. There are a lot of bars on the streets around Gomila Square. There are stairs going down to Paseo Maritimo promenade, ideal for cycling and jogging. At the top of El Terreno you can see and visit the 14th-century Bellver Castle.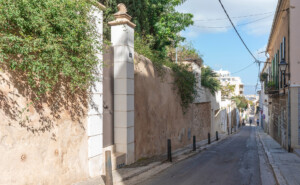 El Terreno's hillside streets are lined with elegant villas and modern apartment buildings. Historically, El Terreno has been one of the most exclusive areas of Palma and in the past mostly local residents lived here. It was home to many intellectuals and creative people. In the late 19th and early 20th centuries it blossomed as a bohemian quarter.  Artists began to find their way to this sleepy but charming Palma barrio. The English poet Robert Graves headed for El Terreno upon arriving to Mallorca in 1929. Today we can find a street named after him. The legendary Bar Africa used to be at the end of Calle Robert Graves, today long gone, but it once was a very popular bohemian meeting spot.
But it wasn't till after the Spanish Civil War in 1939 that El Terreno truly flourished. Spanish poets and diplomats such as Gabriel Alomar, American painter William Edwards Cook and French writer and playwright Georges Bernanos could be seen, strolling the streets of El Terreno. Some of the mansions and homes in which these celebrities lived still exist. Many of them are owned by their families to this day.
From the 1950s onwards, El Terreno became the flamboyant glittering center of the Balearic Islands nightlife, With Tito's night club at its center, it was the place to be for jet setters! Giants within the entertainment industry performed in El Terreno and the area was tremendously glamorous and exciting. Back then, the area of La Gomila was the true hot spot for Palma's nightlife. Unfortunately, after many of the old clubs and bars were closed down, the area lost its shine and over the years gained quite a bad reputation.
Today, El Terreno is gradually regaining its bohemian flair and attracting a new generation of artists, intellectuals and creative entrepreneurs. It has started growing in popularity again. More and more people are discovering the fact that it's actually a prime location. The neighborhood is once again becoming very popular with both international and local buyers. Both business people and families are investing in property here.
CLICK HERE FOR OUR LATEST PROPERTIES FOR SALE IN EL TERRENO
Why El Terreno?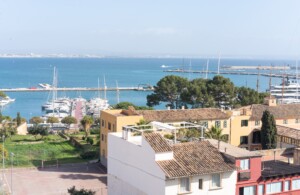 It's not hard to see why: it's a prime location! It is close to central Palma, Paseo Maritimo and the port. There are still many beautiful Spanish modernist houses, low buildings in lovely pastel colors mixed with the big villas with large gardens. Although you still will see many run-down and/or abandoned buildings, there is a certain morbid charm to the diversity of this area where old meets new and luxury meets disrepair. We find both the Swedish school and church in El Terreno. The Bellver Castle and the large, surrounding park nearby offer walking trails and a lovely green forest. Here there are lots of opportunities to enjoy the outdoors.
Where to eat in El Terreno?
El Terreno is not yet famous for its selection of culinary cuisine but it is certainly working hard on improving its status. There are plenty of restaurants and bars on the streets surrounding bustling Gomila Square, moving down to Paseo Maritimo the range of restaurants, cafes and bars doubles. 



HOSTAL CORONA

The newest addition in El Terreno is the newly reopened Hostal Corona. The concept of Japas = Tapas with Asian touch is set in a gorgeous 100 years old building with a fabulous garden. The garden restaurant has an enjoyable outdoor bar, a new bodega with an exclusive wine cellar, and an indoor restaurant on the second floor with a lovely view over the garden. Hostal Corona was converted to a Hotel in 1987 therefore its name and there are plans to reopen the hotel doors once again for future guests.



ROSA DEL MAR
On the sea side of El Terreno we find Rosa del Mar. Tour the world through its flavors, textures, smells and colors. innovative and sophisticated gastronomic journey based on the quality of the ingredients and seasonal products designed by chef Tito Verger. Your five senses will be awakening through avant-garde dishes and will make you enjoy an experience that you will not forget.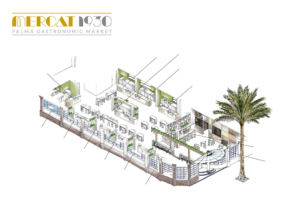 MERCAT 1930
Downhill from El Terreno, on Paseo Maritimo we find MERCAT 1930 which is a must when in El Terreno. Flavors from all over the world, dishes inspired by travel and love for different cultures. Culinary delights contain fresh ingredients to bring flavor and quality to the table. There are 13 gastronomic market stalls to be exact, where you will find Asian, Mexican, Mediterranean food, grilled meats, oysters and seafood, tartares, Iberian ham, cold cuts and cheeses, and cocktail and dessert bars.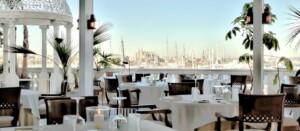 BAHÍA MEDITERRANEO
On the plaza behind Plaza Gomila is Bahía Mediterraneo, a lovely dining experience in a captivating location. Enjoy "top level haute cuisine", in a luxurious 1930s environment and with stunning views over the yachts and sailing boats in the harbor. The setting is just extraordinary, could be taken out of the "great Gatsby" movie. High stucco ceilings, décor in gold and white, large drapes and parquet floors, the restaurant gives you the feeling of an old ballroom.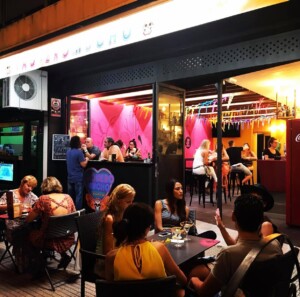 TAQUERO MUCHO CANTINA MEXICANA
Come here for the tacos and mexican dishes, stop for their delicious mescal, have a beer, or try the different tequilas. Do some people watching and enjoy Paseo Maritimo in a pleasant and informal atmosphere from their terrace.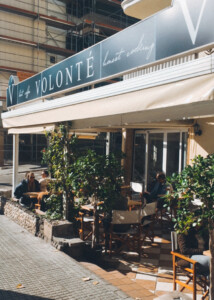 VOLONTÉ
At Volonté you find the best coffee in El Terreno! This Italian café also serves a delicious menu. The staff are delightful and charismatic and make you feel welcome.
What to do in El Terreno?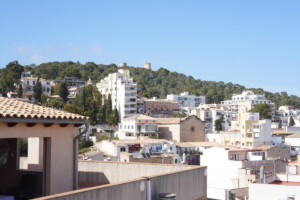 El Terreno's location gives it a lot of advantages! There are a lot of things to do and see around here. A short walk takes you to the beautiful natural area of ​​Bellver forest with green walking paths everywhere. The green park landscaped actually feels more like a forest. It's very popular for walking, hiking, running, or even Mountain biking. Or just appreciate the tranquility of being surrounded by trees and birds, in contrast to the hustle and bustle of the city.
But if you are in the mood for a chic city vibe then head down to popular Santa Catalina. There you can enjoy a selection of restaurants, cafes and the Santa Catalina Market, the oldest market in Palma. Meanwhile Palmas city center will offer you shopping and the big city atmosphere.
When craving a marine atmosphere, stroll to Paseo Maritimo. It's lovely promenade is a combination of strolling people and joggers with the yachts and the Mediterranean as companionship.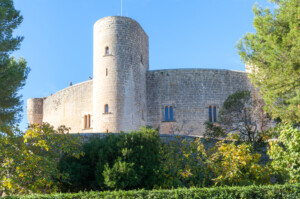 THE BELLVER CASTLE
The Bellver Castle is a must-see. It's one of the few circular castles in Europe, built in the 14th century for King Jaume II of Mallorca. It has served both as a royal residence and as a military prison. It was placed under civilian control in the mid-20th century and now hosts Palma's History Museum.
PALMA'S HISTORY MUSEUM
The city's history museum gives you a tour through Palma's history and its urban evolution from the Bronze Age up to the present. It hosts collections of archaeology and municipal heritage. It has a permanent Despuig classical sculpture collection and an exhibition dedicated to the influential 18th century Asturian politician and former prisoner of the castle, Gaspar Melchor de Jovellanos.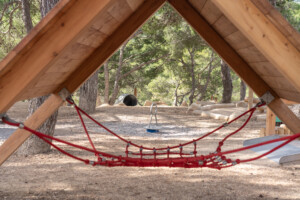 THE BELLVER PARK
The Bellver park is where you can walk or run along the trails for hours if you like. Don't forget to take a deep breath once in a while and admire the spectacular view. The park was named Bellver for a reason – it's Mallorquín for "beautiful view".
The Bellver forest jungle park is the latest addition in E Terreno and is an example of its upswing. This playground is just stunning, an oasis for children of all ages! It was newly opened and there are more than 20 new playground games made with sustainable wood and 17 trees have been planted to make it even more lush.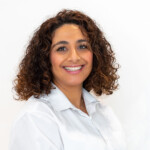 Massar Midgley Mahdi
Team Assistant @ Mallorcaresidencia