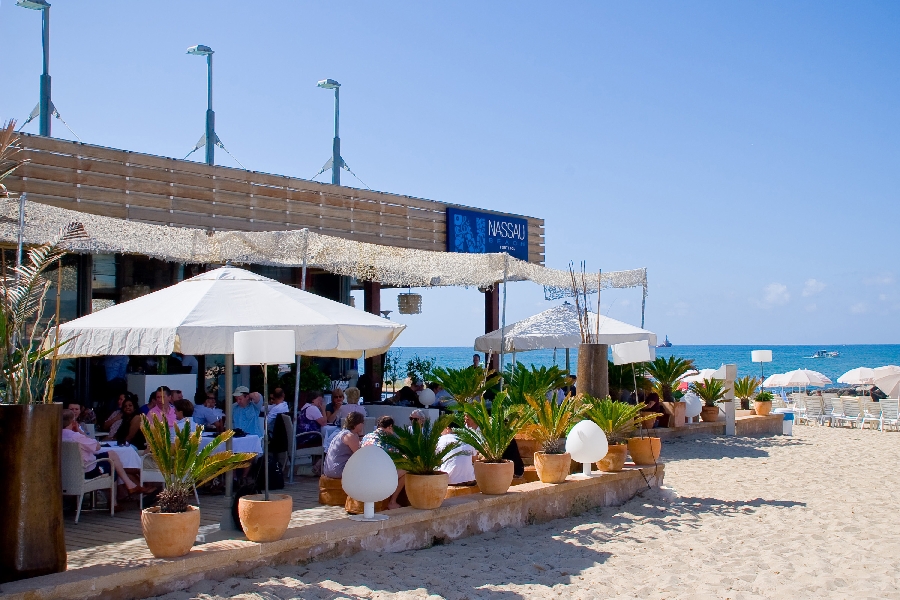 The elegant beach club in Palma de Mallorca
Nassau Beach Club is a place with exquisite Mediterranean delicacies and wonderful music in combination with complete harmonious atmosphere from the water, the soothing rays of the sun, the fine sand under your feet and the magnificent sunset with a view of the nearby cathedral. Nassau Beach Club is located in the trendy area of Portixol, just east of Palma city centre.
The décor, known as 'Feel the Elements' leaves no doubts about the style and quality of the venue. There is wood of all types, shades and shapes, and full-length windows to enhance the spectacular views of the Palma cathedral on one side and the picturesque harbour of Portixol on the other. On the beach side, there's a rocky pier that fades into the sea.
The restaurant has a sophisticated indoor dining area, a terrace with lovely sea views and an outdoor unit directly on the beach. The decor is very stylish with wooden and large elegant windows. The restaurant has seating for about 90 people indoors and 80 people outdoors.
The food is a lovely mix of Mediterranean cuisine with Asian fusion. The menu offers among other things of wok, pasta, risotto, some fish and meat dishes and sushi. They also have a small children's menu.
Read more on the website