Many come to Mallorca to enjoy water in all its forms, may it be beaches, sailing or water sports. The most famous port and also the largest in size is the port of Palma. But you can also explore the ports of Mallorca's southeast coast, by boat or without. The ports often offer a pleasant atmosphere, excellent restaurants and beautiful views.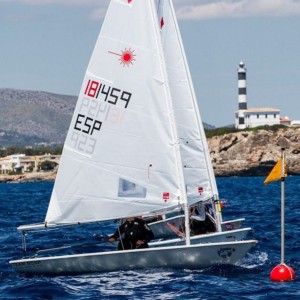 Portocolom
Portocolom is one of the natural ports in southern Mallorca. It's a traditional port with lots of charm and with Mallorcan fishing boats and pastel-colored houses reflected in the water, almost considered Portocolom's hallmark. The name Portocolom comes from Christopher Columbus who is said to have been born here. Historical exports of wine to France from the vineyards of Mallorca took place here.
During the summer season, the harbor is full of life. Even though it is quieter during the low season, there are still restaurants and cafes open all year round. Restaurant Florian is one of them and they offer tapas, a large selection of other dishes and also an affordable lunch menu. You can enjoy your lunch in the company of a beautiful view of the harbor.
Sa Llotja is located just above the harbor clubhouse and is located on the first floor overlooking the sea and as it should be, they specialize in fish dishes. Another of our favorites is El Baúl in the beautiful bay of Cala Marcal. Here you can enjoy dishes such as pulled pork, fresh fish and fantastic cocktails and last but not least an excellent service.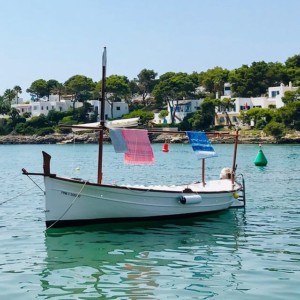 Cala D´Or
The marina in Cala D´Or is located in the protective bay of Cala Llonga and is surrounded by beautiful beaches and lush greenery. There are a total of 563 berths and a large selection of restaurants and bars in the marina.There are several luxury yacht brokers and charter companies . You book a berth here directly in the harbour, and you can even anchor in the beautiful natural park of Mondragó. 
Yacht Club Cala d'Or in Cala d'Or is open to the public and here you can dine in their garden overlooking the harbor. If you wish, you can purchase a day pass to be able to use their infinity pool, sauna and the rest of the facilities.

At the sophisticated restaurant Port Petit you can have a delicious meal in a wonderful setting overlooking the marina. The french chef Jerome Lorieux serves dishes such as a delicious citrus salad, fresh grilled fish and a tender chateaubriand.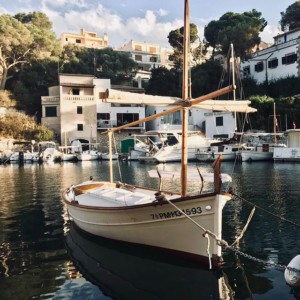 Cala Figuera 
This is a charming little fishing village just outside Santanyí with about 100 berths where almost all are traditional fishing boats. Cala Figuera impresses with its incredibly beautiful location in a rocky y-shaped inlet lined with pine trees. Visit Cala Figuera and enjoy the beautiful surroundings, have a nice lunch at Bon Bar overlooking the harbor and finish with a dip in the turquoise Mediterranean Sea from the cliffs or on the sandy beach of Cala Santanyí.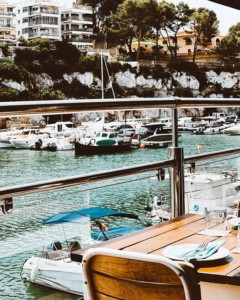 Porto Cristo
Porto Cristo is located on the east coast and has historically served as a port for the city of Manacor, Mallorca's third largest city. It dates back to Roman times. The city maintains its historic charm and blooms in the summer when it is filled with holidaymakers, both locals and tourists. The harbor has been expanded with a new marina which makes the harbor suitable for modern boats as well. Here, among other things, Mallorca's pride Rafael Nadal has his boat. Just outside Porto Cristo we find the well-known caves "Cuevas de Drach" which you can read more about in our blog piece "Caves of Mallorca".
 The Quince restaurant sits directly on the water overlooking the harbor and can enjoy a wonderful mix of Spanish, Argentinian and Thai cuisine prepared with fresh ingredients. If you are looking for a more classic restaurant, restaurant Roland is an excellent choice with delicious food from their chef Roland Schulte. They serve international food from the market based on seasonal ingredients.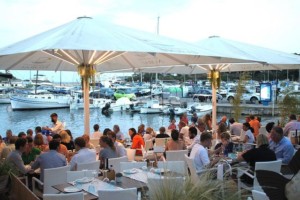 Porto Petro
Porto Petro, located near Santanyi, has historically, like many other coastal villages, served as a defense against pirates. Nowadays, the port is mostly a fishing port with many Mallorcan boats, llaüts. Despite its small size, the charming little fishing village has several nice restaurants along the water's edge. At Es Celler 9 you can eat an excellent seafood paella on their lush terrace. Restaurant Norai is located right on the water's edge and offers classic Spanish tapas, fresh fish dishes and much more, all prepared with local, fresh ingredients.

Johanna Andersson
Team Assistant @ Mallorcaresidencia