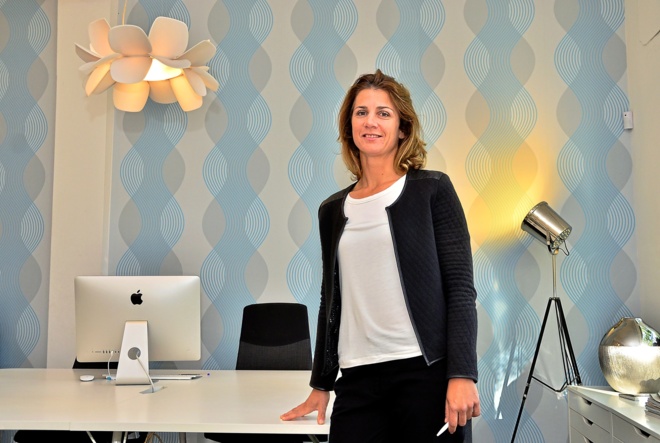 The founder of Mallorcaresidencia, Vivian Grunblatt, was interviewed on May 8, 2016 by El Mundo, one of Spain's largest newspapers, regarding the Swedish real estate market in Mallorca:
She greets me with a tray of freshly baked cookies and despite her name, her Nordic looks and her slightly untraceable accent, there is no doubt that this woman is a native Majorcan. She was born on the island and grew up in a city much less active than the one we see today, studied political science in the United States and later discovered that her vocation lay in the world of business and entrepreneurship. Today, her real estate agency is one of the most significant when it comes to understanding the Swedish customer. This despite of an increased competition to capture the demand of a market that is not so large – about ten million people – but ever so lucrative and secure. The interview, of course, takes place in Santa Catalina, the Little Sweden of Palma.
Q: What led you to bet on the Swedish market at a time when it had just started to develop? Were you somewhat of a visionary?
A: I started this project ten years ago, in 2005, for quite some circumstantial reasons. At first I operated from Sweden, because my husband worked as a consultant for an international company based there. Before that, I had owned a company linked to the real estate business but more related to property services, which I sold upon moving. For me, at the time, doing this work was a way of offering a product that I knew well, in combination with having a job which allowed me to return frequently to Mallorca. After all, it is the place where I was born. My parents are Hungarian and came here in 1973. As simple as that! Imagine, at that time we were only three real estate agencies who worked towards the Swedish market. Now there are thirteen, and that includes several large Swedish companies who have opened branches in Palma. Only between 2013 and 2015, I estimate that the turnover has grown by 100% which has also meant a big change in the profile of our clients.
Q: Was it difficult to sell Mallorca to the Swedish public?
A: At first, yes. Keep in mind that most of them barely knew the island, or rather had a distorted view of it: they knew it was a summer resort, maybe they had spent a weekend with the family at the beach in Alcudia, and they had heard of Magaluf (with all that implies). Basically, there was some prejudice. In fact, during the first two years my main job consisted of travelling with clients to the island. We would spend a week exploring both city and countryside, while I was trying to convince them that this destination is unbeatable. Of course, it succeeded. Then, in 2007, we moved back to Mallorca, the family grew, my husband joined the agency and everything changed for us…
Q: Did you start out here in Santa Catalina? I ask because I find the fascination that Swedes have for the area so interesting. Do you have a theory about this?
A: Yes, from the beginning we set up here, basically because we lived in the neighborhood at the time (not anymore). We hit the nail on the head choosing the location, but it was a total coincidence! We started out in a smaller office, we moved to the current in 2009… And now this one is getting a bit crowded! In fact, for a while we had a second office in San Agustin, since we also work a lot in that area, but our sales agents prefer to work here. As for the Swedish fondness for this particular area… Well, it's hard to explain, but there is definitely some connection because the whole phenomenon goes way back. There have always been some Swedish establishments in Santa Catalina, even when there were very few Swedes living in Palma. I think our customers like the fact that it's a lively, relatively independent neighborhood; perhaps they find the atmosphere in for example the Old Town a bit too metropolitan. However, it is undisputed that Swedish media has written extensively about the area lately, and Santa Catalina as well as Palma (note: Palma, not Mallorca) has turned into somewhat of an obsession for the Swedes.
Q: How do you capture your clients?
A: We barely have any walk-in clients, directly from the street. Our promotional work mainly transpires in Sweden, where we do a lot of publicity. We have optimized the use of the website, we assist real estate fairs in Sweden and our agents sometimes spend whole weekends there for client meetings…
But the most important thing by far, is that during these ten years we have made a name and created a good reputation, allowing us to grow and prosper.
Q: You mentioned earlier that the upswing of the Swedish market has caused a change in your clients' profile. Could you explain this?
A: In the early years, we worked with much younger people, couples in their early forties, sometimes looking for a vacation home but mostly wanting to invest in real estate. This has changed in the last six years, perhaps due to the financial crisis. The fact is that the clients now dominating the market are people born in the fifties. They are retired or semiretired, with savings and quite a lot of money, and are eager to enjoy life. This, of course, has consequences on the type of property they demand. In 2007 people wanted to buy in Santa Ponsa, Andratx and on the east coast… They were often interested in new productions with communal areas, suitable for families with children. The new type of customer prefers an apartment that allows them to walk anywhere, not giving much importance to the number of square meters. What they do often want, however, is a good terrace to enjoy the sun on. But otherwise, they are looking for an urban environment that lets them enjoy the island life. Another very interesting aspect is that these clients prefer – if the weather allows – to spend the summer in Sweden. They buy a property in Palma to spend one week per month here between September and April. I think this is kind of the ideal client for an island that is always looking for ways to combat the seasonality.
Q: These new clients, what areas and neighborhoods are they interested in?
A: The greatest demand is definitely in the center of Palma, but areas as Cala Major, Cas Català, Illetes and Portals are also popular. Within the city, as we have already established, the absolute favorite is Santa Catalina, but lately we are also noticing a huge demand in the area of Son Espanyolet and around the new Sport and Tennis Club.
Q: Son Espanyolet?
A: Yes, the city is expanding in that direction, at least when it comes to our clients, who often find the city center a bit too urban. The Swede wants terrace and sun, which can still be found in Son Espanyolet. This year, we have started up a new department that advises developers on new works that fit the Swedish demand. We have been involved in three projects already, all of which consisted in recovering and restoring abandoned buildings in Santa Catalina and Son Espanyolet. All three projects were sold long before the construction work even began. Working with restoring is very exciting and so much fun. After all, this is where the future of the property sector on the island lies.
Q: What progress do you predict for the Swedish market in the next few years?
A: It will definitely keep growing. In the next three years, I think everything will be just fine. In fact, right now there is more demand than supply, at least regarding the demand from our clients. One has to keep in mind that the Swedish society is much about trends, and right now Mallorca is very trendy. Previously, it was Marbella or the French Riviera, but we simply offer more: better connections, higher security, and a city that is active all year round. When I was growing up it was different, but nowadays Palma is almost like a mini version of Barcelona.
Q: The danger with trends, is that they pass. What can be done to preserve the market you dedicate so much time and effort to?
A: Right now, we are the perfect destination for the Swedish clients. The challenge will be to stay as we are, which is not that easy. The other day I heard someone compare the center of Palma with Venice, which may seem exaggerated, but it is true that sometimes the flood of people here is impressive. Mallorca is so attractive because it is a place where one can rest, relax and enjoy the well-preserved landscape. Despite many mistakes of the past, so far we have managed to keep all that; I think it is worth to continue. But to suggest something a little more concrete, it would be to further increase the focus on businesses offering a traditional product in a modern, attractive packaging.
The original article can be read here:
http://www.elmundo.es/baleares/2016/05/08/572efa43268e3ebf0c8b45e6.html